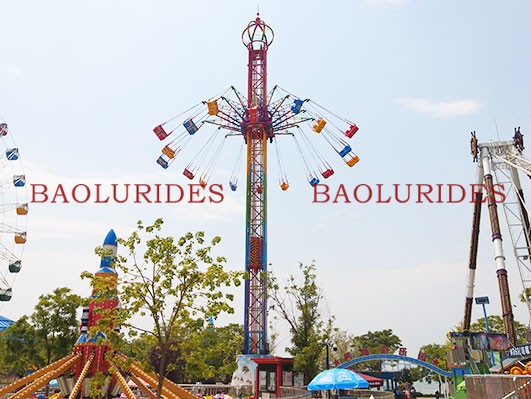 Sky Flyer
Sky Flyer Tower rides is classical rotating flying tower amusement rides in the park. Sky Flyer Tower rides is a kind of amusement equipment that the passengers will rotate, move up and drop down with the cabins together. During the running time, passenger can feel the rotation centrifugal force and high running endless fun. The ride will rotate up and down along the center column, passenger will fly like bird happily.
chat online
Night comes, the high rise tower with colorful Led light, when the passenger running with rides together, it looks like rainbow dancing in the space, the sky flyer tower will be more brilliant and beautiful.
Sky Flyer Tower has easy to load and install, low cost, easy maintenance, comfortable feature, So it is the nice amusement rides for playground. It can earn more profit in low running cost.
| | |
| --- | --- |
| 55.8m Sky Flyer Tower Rides | Model:BL-SFT55.8 |
| Item | 55.8m Sky Flyer Tower Rides |
| Code | BL-SFT55.8 |
| Height | 55.8m |
| Running Height | 36.8m |
| Power | 82KW |
| Voltage | AC380V 50HZ |
| Diameter | 30m |
| Capacity | 36p |
| Area | Diameter 34m |
| | |
| --- | --- |
| 43.8m Sky Flyer Tower Rides | Model:BL-SFT43.8 |
| Item | 43.8m Sky Flyer Tower Rides |
| Code | BL-SFT43.8 |
| Height | 43..8m |
| Running Height | 29m |
| Power | 67KW |
| Voltage | AC380V 50HZ |
| Diameter | 24m |
| Capacity | 32p |
| Area | Diameter 26m |
| | |
| --- | --- |
| 31.8m Sky Flyer Tower Rides | Model:BL-SFT31.8 |
| Item | 31.8m Sky Flyer Tower Rides |
| Code | BL-SFT31.8 |
| Height | 31.8m |
| Running Height | 18m |
| Power | 67KW |
| Voltage | AC380V 50HZ |
| Diameter | 22m |
| Capacity | 32p |
| Area | Diameter 24m |